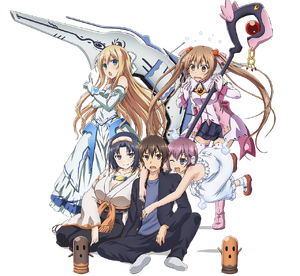 Invaders of the Rokujyouma (六畳間の侵略者!? Rokujōma no Shinryakusha!?) is a light novel series by Takehaya with illustrations by Poco that started in 2009.
Plot
This comedy is starring Koutaro Satomi, a boy will start living on their own to start school. Luckily, he found a tiny apartment (6 tatami mats) in the Corona House for just ¥5,000 yen a month (about $ 50 dollars). However, after he moved into room 106 in the Corona complex, some unexpected "roommates" began appearing one by one! Thus, the quirky boy new life will begin in the "battlefield 6 tatami".
Media
Light novel
Main article: List of Light Novels
Takehaya launched the light novel series with illustrations by Poco in 2009. As of July 2017 the series has published 28 volumes. It is published by Hobby Japan under the HJ Bunko label. Starting June 2017 the online publisher J-Novel Club have licensed the light novel for an English release.
Anime
Main article: List of Episodes
An 12-episode anime television series adaptation by Silver Link and directed by Shin Ōnuma aired between July 11, 2014 and September 26, 2014. The anime has been licensed by Sentai Filmworks for North America.
Manga
Main article: List of Manga Volumes
A manga adaptation with art by Tomosane Ariike is serialized in Hobby Japan's online manga magazine Comic Dangan. It currently has 4 tankobon released.